MUSÉE COMME CHEZ SOI
MUSÉE COMME CHEZ SOI - Second edition - 9th December 2018
Two weekends a year, ten works will come out of storage and spend two busy days in one of the Museum of Ixelles' neighbours.
On the Saturday, the host will unveil his chosen work to his nearest and dearest; on the Sunday, he will open his home to the public who will be able to walk from neighbour to neighbour and admire ten works on display in an original context.
> See all pictures of the first edition.
Next date for the public: December 9th 2018 - 1pm > 6pm – in the Fernand Cocq place neighourhood of Ixelles.
The detailed map with the list of the works and the houses awaits you at the infodesk Fernand Cocq place.
Meeting point and map: place Fernand Cocq
(In front of Tom & Co - 156, chaussée d'Ixelles).
Free entry. The amount of visitors can temporarely be restricted to keep your visit a pleasurable experience.
Most residencies are unfortunately only accessible by stairs, which can make it difficult to reach them for visitors with restricted mobility.
A project of the Museum of Ixelles in collaboration withPatrimoine à roulettes within the Contrat de quartier durable Athénée.
INFORMATION TO OUR NEIGHBOURS!!!
For the next edition that will take place on June 22nd and 23rd the Museum of Ixelles is looking for neighbours ready to welcome a work at home. Here are the streets concerned:
Chaussée de Wavre (94 – 206, 87 – 181)
Place Londres (1 – 14)
Rue Anoul (2-30, 1-29)
Rue d'Alsace-Lorraine (1 – 33)
Rue du Conseil (60 – 72)
Rue de Dublin (10 – 46, 1 – 43)
Rue Georges Lorand (2 – 48, 1 – 41)
Rue de Londres (2 – 36, 5 – 19)
Rue de Paris (1)
Rue du Trône (39 – 141)
Rue de la Tulipe (48 – 86, 43 – 71)
Rue Major René Dubreucq    (2 – 44, 3 – 39)
Feel free to contact us at : musee[at]ixelles.brussels
MUSÉE COMME CHEZ SOI - The movie
A movie by Aurélia Pfend
52 minutes - vo fr - 16/9 - Color – 2018
Production : CVB, Patrimoine à roulettes, bx1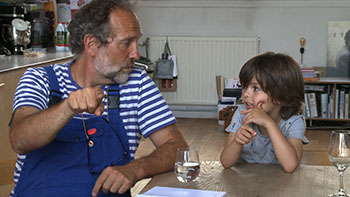 Watch the movie on Wednesday December 5th on bx1.
Projection: Tuesday 04.12.2018 – 8:30 PM – Flagey – Studio 5, Place Sainte-Croix, Ixelles
Free access
Reservation before Monday November 26th: musee@ixelles.brussels – 02 515 64 21
 
With the support of