MUSÉE COMME CHEZ SOI
MUSÉE COMME CHEZ SOI - Third edition - June 23rd 2019
Two weekends a year, ten works will come out of storage and spend two busy days in one of the Museum of Ixelles' neighbours.
On the Saturday, the host will unveil his chosen work to his nearest and dearest; on the Sunday, he will open his home to the public who will be able to walk from neighbour to neighbour and admire ten works on display in an original context.
> See all pictures of the first edition.
Next date for the public: June 23rd 2019 – in the London place neighourhood of Ixelles.
Free entry. The amount of visitors can temporarely be restricted to keep your visit a pleasurable experience.
Most residencies are unfortunately only accessible by stairs, which can make it difficult to reach them for visitors with restricted mobility.
A project by the Museum of Ixelles and Patrimoine à roulettes. Supported by the Brussels-Capital Region, the mayor, the Eschevin of Culture and members of the Mayoral College and the Eschevin of Ixelles, within the framework of the Athenaeum Sustainable Neighbourhood Contract. The Museum of Ixelles and Patrimoine à roulettes offer their gratitude to Collectif aKCess from Prométhéa for the aKCess award.
INFORMATION TO OUR NEIGHBOURS!!!
For the next edition that will take place on November 30nd and December 1rst the Museum of Ixelles is looking for neighbours ready to welcome a work at home in the streets around Porte de Namur and Place Saint-Boniface.
Feel free to contact us at : musee[at]ixelles.brussels
MUSÉE COMME CHEZ SOI - The movie
A movie by Aurélia Pfend
52 minutes - vo fr - 16/9 - Color – 2018
Production : CVB, Patrimoine à roulettes, bx1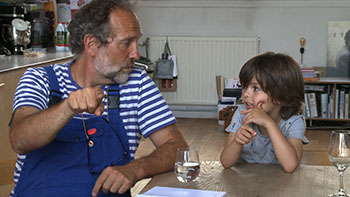 With the support of