ROBERT DOISNEAU
ROBERT DOISNEAU
19.10.2017 > 04.02.2018
Exclusively for Belgium, the Museum of Ixelles is offering a masterful retrospective of Robert Doisneau, illustrious photographer of Le Baiser de l'Hôtel de Ville. With some 150 vintage shots, prepare to be reconnected with the candour, charm and beauty of this post-war daily.
Robert Doisneau, Le baiser de L'hôtel de ville, 1950 © Robert Doisneau
The exhibition is organized around three axes. Wonderful daily from the years 1930 to 1970 has a false witness for a photographer who describes not the real but more a poetic reading of life. Palm Springs 1960 has 1930 color photographs produced for Fortune, the American magazine that translated the amused observations of an impromptu ethnologist on populations ranging from the happily retired to joyful opulence. Artist Studios comprises some 55 shots taken between 1945 and 1971 in the studios of none other than Picasso, Braque, Utrillo, Giacometti, Brancusi and César. Whether in black and white or color, famous or unknown, Robert Doisneau's exquisite prints will keep you mesmerized.
Wonderful daily
A series of vintage, precious prints chosen from the collection at the Robert Doisneau Studio will be supplemented by two large reliefs made by Doisneau in the 1970s, in the spirit of what was later referred to as installations.
Robert Doisneau, La dernière valse du 14 juillet, Paris, 1949 © Robert Doisneau
 
The world I was trying to show was a world where I would have felt good, where people would be kind, where I would find the tenderness I want to receive. My photos were proof that this world can exist.
Robert Doisneau
Palm Springs 1960
Thirty color photographs from the February 1961 issue of the American Fortune magazine capture the construction of golf courses in the Colorado Desert. Doisneau presents an amusing look as an impromptu ethnologist on a population of happy pensioners in joyful opulence. He arrived in Palm Springs on November 21st and stayed until December 1st, 1961. This ethnographic report lasted two short weeks. What he was to discover there would take him far beyond the remit of the report. Beyond the encroachment of the greens on an arid land, he painted an amusing portrait of an artificial world repainted in the sweetest of colors. For resolutely aesthetic purposes, he used, in turn, a Rolleiflex, Leica and Hasselblad and for the first time, color film.
Robert Doisneau, Les cygnes gonflables, Palm Springs, 1960 © Robert Doisneau
Artist Studios
Fifty five photographs taken between 1945 and 1971 to follow Doisneau into the studios of Picasso, Braque, Utrillo, Giacometti, Brancusi and César. He feels good in a studio, it is a place with the best scenery. Yet he never would knock at the door of his illustrious neighbours Etienne Hajdu, André Fougeron and Etienne Béothy.
I would never have had the audacity to ask for the time of those who employed it so well. To the great masters whose names are the chapter headings of the art history books, one imagines them with a neon halo… Yet some of those great masters invited me in to their studios.
Robert Doisneau
This was the pretext for the commission, because Robert Doisneau is above all a craftsman photographer torn between the laborious works of daily life.
Robert Doisneau, Hans Arp, le 25 septembre 1958 © Robert Doisneau
Robert Doisneau Studio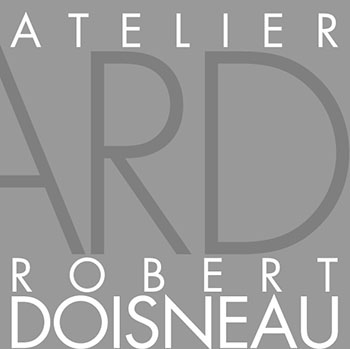 The Robert Doisneau Studio was created by Annette Doisneau and Francine Deroudille, the two daughters of the photographer, in order to ensure the preservation and representation of his work. The studio took its location in Montrouge, in the apartment where Robert Doisneau had worked for more than fifty years. Today, 450,000 negatives are archived, numbered and classified, allowing the continuation of exhibitions and publications as well as the happy discovery of an unseen image.
CATALOG
Danielle Leenarts & Virginie Devillers
Robert Doisneau
29,95 € | october 2017 | soft cover with flaps
240 x 240 mm | 240 pages
bilingual editions French-English
and French-Dutch
PARALLEL TO THE EXHIBITION 
CINEMATEK @ FLAGEY
About ROBERT DOISNEAU
Programme :
____
Discounts on presentation of a ROBERT DOISNEAU  ticket and vice versa. Offer cannot be combined with any other discount.
LATEST EXHIBITION BEFORE RENOVATION!
Beginning in April 2018, the museum will benefit from a renovation and expansion project that will continue until 2022. Do not miss our marvelous event in March 2018.
In partnership with :
With the support of :